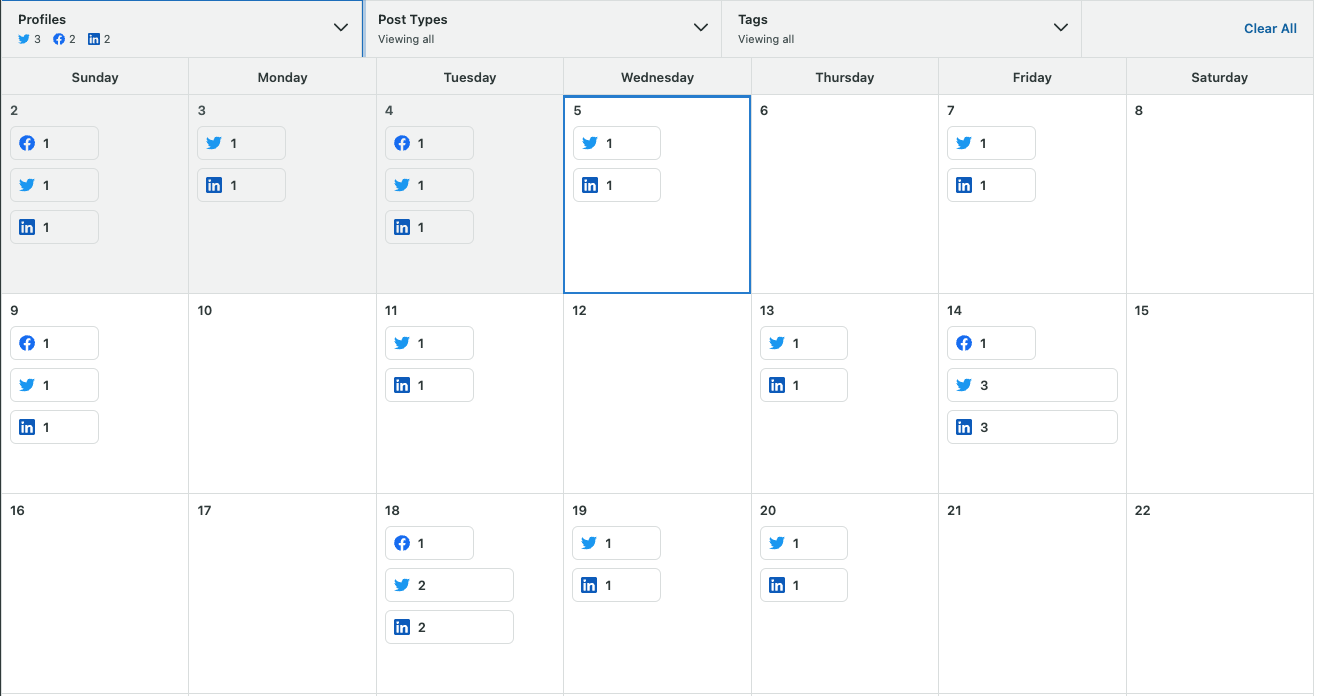 Content batching is an essential part of any effective marketing strategy. The idea of creating enough content to get you weeks or months ahead of schedule can sound overwhelming, but in practice, batching makes content creation and distribution much easier and much less stressful.

In order to schedule social posts and queue up blogs months in advance, you first need a content calendar (also known as an editorial calendar) based on your business objectives, marketing goals, and content strategy.

Let's say you're a new social media scheduling platform trying to sell your latest subscription plan on your website. Your general goals are to:
Increase brand awareness

Show the value of your product

Connect with your target demographic (which, based on your research, can be found primarily on LinkedIn)
Create content pillar pages.
You'll want to draw traffic to your website, where customers can learn more and start a free trial of your product, and your LinkedIn profile, where your promotional content is and where users can find a link to your website. Offering valuable content on your website boosts traffic and SEO, so posting relevant blogs – 'Why You Should Be Batching Content,' 'Posts to Schedule for Spring,' 'Five Ways to Up Your Instagram Game' – can help increase brand awareness and add value to your website for potential or current customers.

Sharing your expertise in your industry on your website can help you start to build content pillar pages and topic clusters. This will not only help improve SEO it will also help you think of new, relevant content ideas. Content pillars help make your website more relevant on search pages of topics you specialize in by helping you spread your content across many subtopics of a larger idea.
For example, "content creation" is a content pillar we create content around on LONDONmiddlebury's website. We sat down and brainstormed different topic clusters that fit into that pillar, and came up with lots of different ideas, including the blog you're reading now. Focusing on subtopics that fall under that broader pillar will improve our site's SEO around anything to do with content creation. Below is a great visualization of this concept from one of our favorite metric-tracking companies, Semrush.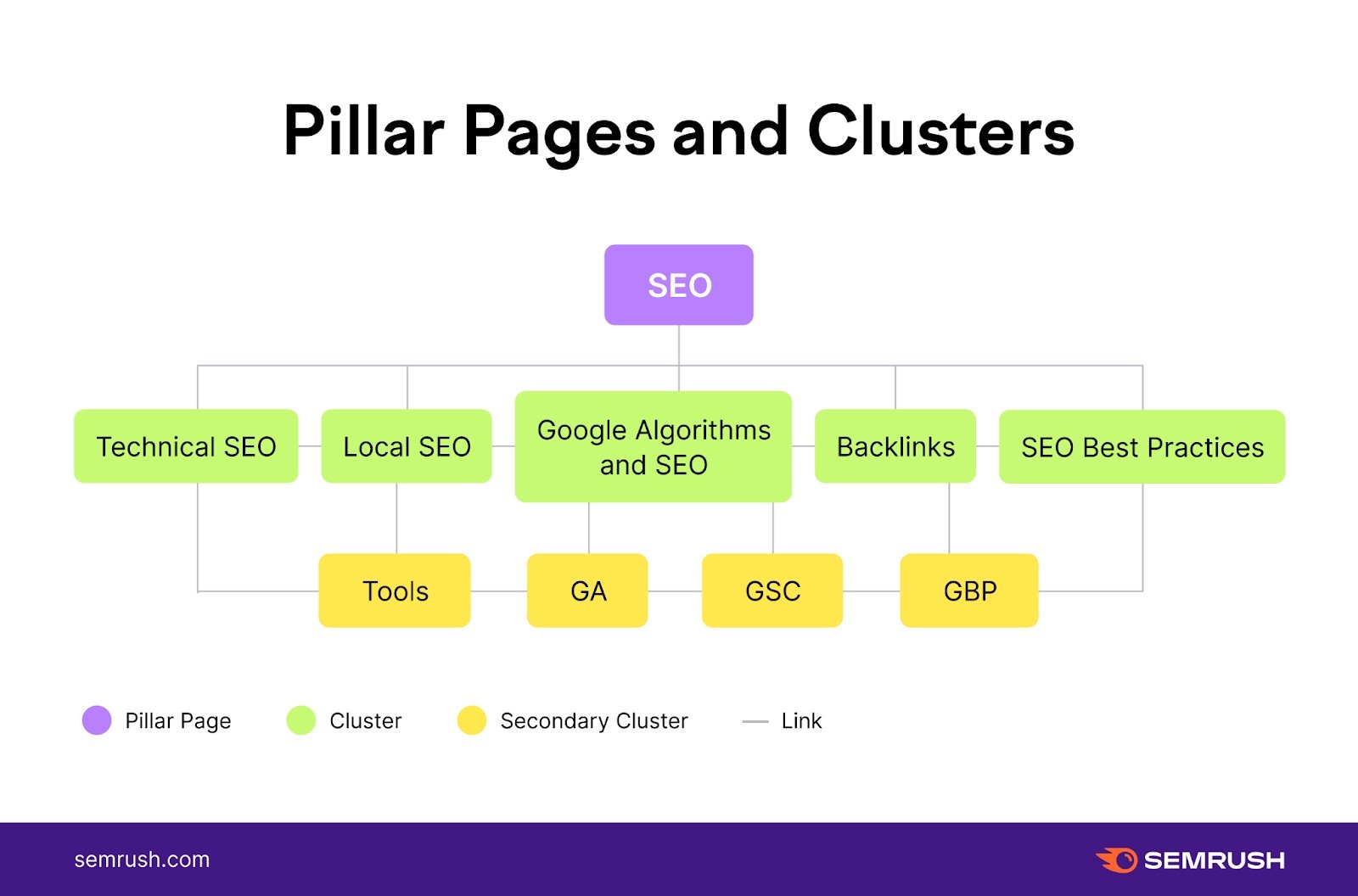 Similar to posting blogs consistently, offering valuable and interesting content on your LinkedIn account will get you more eyes on your page, which will, in turn, connect you with potential new customers, drive more traffic to your business, and boost brand awareness. Posts showing different ways to use your software and benefit from it are key to enticing viewers to browse your site, but you'll also need your captions to be relevant, occasionally topical, and to have a consistent brand voice.

Consistently posting content is essential to building a social presence, and creating social media (and other types of) content on the fly can be incredibly stressful and majorly time consuming. Not creating content in advance can also make it much more challenging to post strategically and follow through on content strategy goals. Batching out content allows you to create and stay consistent with posting themes and to use your time wisely. Focusing on creating quality content for a few short hours often gives you the luxury of not having to think about it for a week (or a few) at a time.

When creating your content calendar, Google Sheets can be a great tool to use – here's a template you can use to get started. Decide how many posts (blog and social) you want to make in a month, and put them in the calendar.

Plan a theme for each week and keep all posts for that week in the theme.
This can be great for seasonal content, or if you post a lot of timely content like sale promotions. For example, if your company is looking to hire summer interns, you could batch out promotional posts about your job listings around the time of college graduations.
Create a short list of post types and distribute them evenly throughout the month.
In this example, the types could include social media grid inspiration photos (made using your platform, of course), testimonial videos from users who love your software, a sale/discount announcement, and a subscription giveaway. You obviously don't want as many giveaways as promotional posts, so decide how many of each type you want per month and distribute accordingly.
Plan out your blog content.
When planning blogs, make a list of as many relevant blog topics you can think of. If you've decided you want to release two blogs per month, assign two topics to each month and add due dates to your calendar to hold your marketing team (even if it's just you!) accountable.

Once you have your calendar, you can start creating content! Using a social media scheduling platform like Later, Hootesuite, Sked, or Sprout is the best way to schedule posts in advance, so look through the available options on the market and decide which one works best for you. You can create posts in advance in a word document and transfer them over to your scheduling platform when you're finished, or you can create them directly in the platform. Scheduling platforms are also great because they track analytics for you so you can see what content is working best and what isn't.

When batching content, it can feel overwhelming to tackle so many posts at one time – which can sometimes lead to procrastination. Even dedicating just one hour a week to planning out, creating, and scheduling content in advance can make your marketing efforts much more effective and much less of a headache.


---
Get in touch with our team to learn more about what content marketing and strategy can do for your business.