Meet Cooper: Marketing Assistant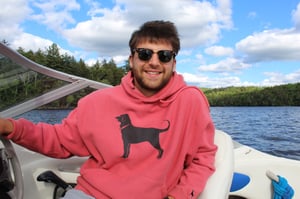 Cooper Eastridge grew up in Lexington, Massachusetts with his younger sister, parents, and his loving dog Wilbur. He worked for his dad's construction company starting at 14, learning many many tricks of the trade and a love for the process of building something meaningful while growing along the way. His mom is a middle school social studies teacher, who passed along a library of random facts about world history and writing skills. Just don't ask him to name the 50 states and capitals (please).
Passionate, thoughtful, and generally laid-back, Cooper lives by the simple mantra "Do something everyday that makes you happy". Enjoying a wide variety of roles, he likes having his hands in all parts of the marketing ecosystem. Whether it's helping with digital ads, creating graphics, or copywriting, Cooper has a passion for learning and understanding the big picture.
He graduated from Ithaca College in the spring of 2022, working a variety of jobs from dining hall food server to fitness center marketing team. Cooper studied Marketing and Graphic Design and loves incorporating the design process into all aspects of his work - from background research, to feedback, and delivering a stunning final product.
Cooper loves being outside and competing in any capacity. During the summer he loves fast road cycling races, long mountain bike rides, and hikes in Vermonts beautiful Green Mountains. During the winter he is a passionate backcountry skiier, runner, and (often floundering) cross country skiier. Regardless of the activity, a tasty beer always follows.