WEBSITE CASE STUDY
Developing function to better serve a vulnerable community.

Somerset West Community Health Centre (SWCHC) is a non-profit, community-governed organization that provides primary health care, health promotion and community development services using interprofessional teams of health and social service providers in Ottawa, Ontario. These teams include physicians, nurse practitioners, nurses, social workers, dietitians, health promoters, early childhood educators, counsellors and others. SWCHC is well known for its excellent Community Health Centre (CHC) model and its professional health services team, but it has also become a leader in offering a wide range of community-building activities and advocacy programs.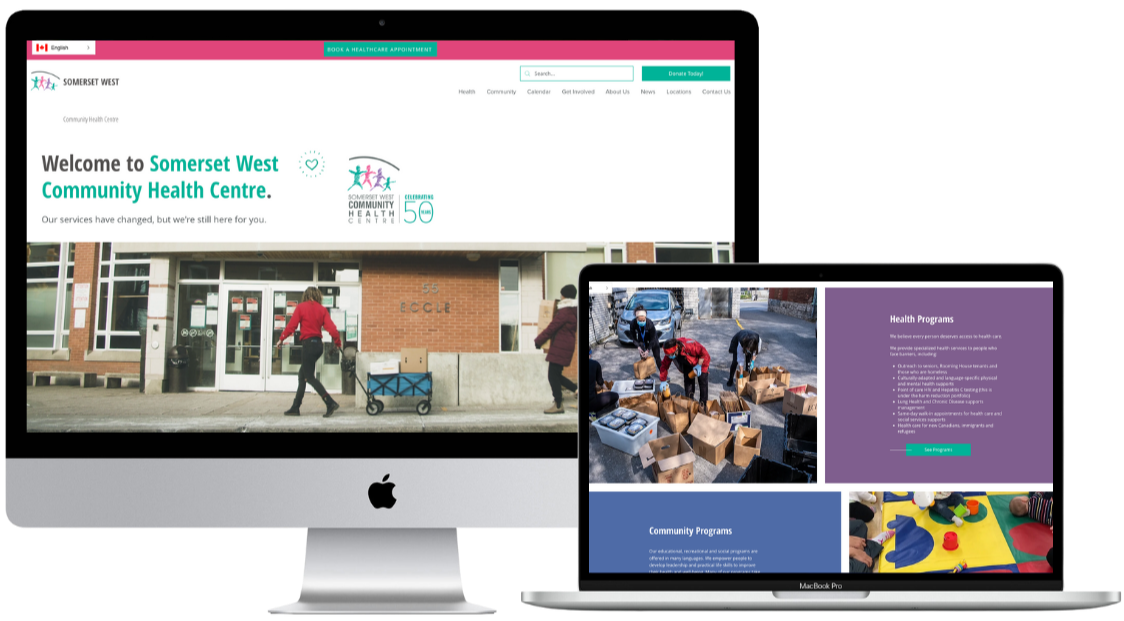 SWCHC approached LONDONmiddlebury with a desire to replace their website with a new streamlined version that was easy to navigate for users and easy to update for staff members. The website needed to communicate clearly to a wide ranging audience including: current and potential clients, staff at other agencies, job seekers, health service providers, families, and parents.

The team at SWCHC were fans of our work with a neighboring health centre, Pinecrest-Queensway Community Health Centre, and wanted a similar filtering system for their 80+ programs and services.


Filtering programs


We were thrilled to be awarded the project and got right to work, meeting with stakeholders and frontline workers to understand the needs of the people they served and the team members who would be managing the site. Content on projects this large is always a huge lift and we were happy to help with the information architecture and writing prompts necessary to filter through the existing written content.

We built SWCHC's new website on the Wix Platform. Wix allows us to build a great looking website that is easy to update by client team members while still having the power to code in more complicated web elements. For SWCHC, we leveraged Wix Velo to create a backend content database. The dynamic database means we can design a series of templated pages and populate them from an easy to manage content manager. Team members simply sign-in to the admin panel to update photos, change phone numbers, and edit text - without risk of breaking the design and layout of the site.​

Following the site launch, we trained key team members how to manage the content database and make edits to the layout and design. We remain on call to support as needed with the added support of Wix Customer Service, available to SWCHC 24/7.
"We had a fantastic experience working with LONDONmiddlebury to develop a new website. They were able to understand the complex needs of our organization, thoughtfully engage with multiple stakeholders and designed a beautiful, interactive, accessible website for our Centre. The team at LONDONmiddlebury is creative, innovative, and responsive, and always went the extra mile to make us feel informed and supported at each phase of the project."
- Natalie Eedson, SWCHC
Curious how LONDONmiddlebury can do this for your business?